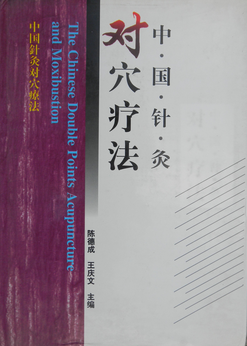 The Chinese Double Points of Acupuncture and Moxibustion (Second edition)
Author:

Dr. Decheng Chen, L.Ac. Ph.D

Publishing by:

Jilin Science and technology Publish House, in China, 1998

Version:

Chinese

Pages:

576

ISBN:

7-5384-2258-7

Price:

$120
The Chinese Double Points of Acupuncture and Moxibustion
The Double Points Therapy is a kind of therapeutic method, which is derived from acupuncture and moxibustion. It refers to using two acupoints of the body to treat and prevent diseases. This book introduces 346 diseases treated by double points therapy in point location, method(s), manipulation, effects and cases and so on.
Introduction
This book introduces how to use two acupoints treating different diseases in acupuncture and moxibustion.
The double points therapy means using two acuponts to treat and prevent diseases in each treatment.
The double points therapy consists of many methods of acupuncture and moxibustion, such as acupuncture, moxibustion, auricular acupuncture, head acupuncture, cupping therapy, bleeding therapy, point injection and laser therapy. Also it consists of medicated compress, acupressure and massage etc.
This book includes 11 chapters to cover emergency diseases, epidemic disease, internal disease, surgical diseases, Obstetrical, gynecological diseases, pediatric disease, Ophthalmic disease, E.N.T. diseases, oral diseases, dermatosis, geriatric and anesthesia etc. treated by double point therapy.
This book introduces different therapies for the treatment of 346 diseases by double acupoint, including the point, location, result, case study and discussion.
This book is suitable for TCM doctor, teacher, students and acupuncture practitioner.