Acupuncture for Infertility IVF support
This couple had an IVF treatment in October 2005, but it was a failure. They came to me on December 5, 2005, and asked for acupuncture treatments to support the next IVF treatment, which was going to be done in February 2006.
The wife's situation:

She was 38 years old. She had surgery in 1993 to remove an ovarian cyst in her left ovary. She had irregular menstruation and her cycle was long, 2-3 months. She often had right side lower abdominal pain.
The husband's situation:

He had impotence for 3 years. His semen analysis report showed:
Concentration: 0.02 X10x6/ml (Normal range 20 X 10x6/ml)
Total sperm count: 0.06 X 10x6 (Normal range 40 X 10x6)
Motility: 44% (Normal > 50%)
Morphology: 0 (Normal (> 15)
The meaning of the above is: that his sperm count was much less than normal; about 100 times, the concentration was low, the activity was also low, and the sperm was under developed.
They both had acupuncture treatments and were prescribed a Chinese herbal formula from December 5, 2005 to February 20, 2006, three months. They received acupuncture twice a week and took an herbal formula twice a day. They started IVF again and it was successful. The wife delivered a baby on November 16, 2006.
The baby was 6 pounds, 7 ounces (2.9 kilograms), 19 ¾ inches (50.1 centimeters).
New baby is by IVF with Acupuncture. The mother is 43 years old. Now the baby is 22 months
12/20/2006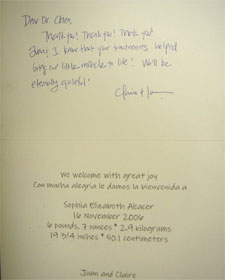 Dr. Decheng Chen's Acupuncture office
Add:161 Madison Ave Suite 2N, New York, NY 10016
Tel:212-564-3324